A private complementary health clinic offering gentle, effective and affordable treatment for the whole body.
Owned and run by Fiona Dowdell, an experienced McTimoney Chiropractor, and offering two highly qualified and talented massage therapists, Fiona Reese and Phil Nuttridge, the clinic specializes in musculo-skeletal health.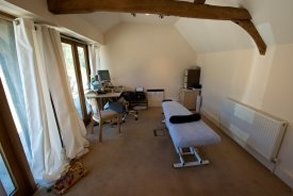 In a peaceful rural setting, 1.5 miles from Winslow, with off road parking it remains convenient for the major towns of Aylesbury, Buckingham, Milton Keynes and Leighton Buzzard.
In addition to treatment our therapists can all offer exercise, lifestyle and posture advice to help with an optimum return to and maintenance of fitness. A spinal mobiliser bench is available for in between treatment top up care.
Telephone 01296 720695
Coronavirus (Covid-19)
The Clinic remains fully open, operating strictly within Government guidelnes. All practitioners are wearing PPE to Public Health England Table 4 specification. A two stage Triage is conducted to minimise the chance of any infected person being permitted on the premises. A thorough infection prevention process is in place including an airing/sanitisation gap between each patient. All patients are required to wear an adequate face covering whilst on the premises - patients may be provided with a surgical type mask if considered more vulnerable or if the covering worn is deemed insufficient . There is no waiting room in use currently and patients are asked to wait in their car until your therapist comes out to you and conducts a short second stage triage. Please only use our loo if essential. Hand sanitising products are provided as are hand washing facilities. No accompanying people with patient unless by prior arrangment as they will need to be risk assesed and triaged too. Underneath the masks it is still our friendly selves though and it is still the same great treatment!