A private complementary health clinic offering gentle, effective and affordable treatment for the whole body.
Owned and run by Fiona Dowdell, an experienced McTimoney Chiropractor, and offering two highly qualified and talented massage therapists, Fiona Reese and Phil Nuttridge, the clinic specializes in musculo-skeletal health. (due to coronavirus restritctions the massage therapists are currently not working but we hope they will be back soon!)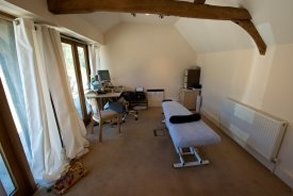 In a peaceful rural setting with off road parking it remains convenient for the major towns of Aylesbury, Buckingham, Milton Keynes and Leighton Buzzard.
In addition to treatment our therapists can all offer exercise, lifestyle and posture advice to help with an optimum return to and maintenance of fitness. A spinal mobiliser bench is available for in between treatment top up care.
Telephone 01296 720695
Coronavirus (Covid-19)
On 26th March 2020 the Government published a statutory instrument (2020 no 350) stating that registered Chiropractors are exempt from closure during the coronavirus crisis.
Fiona, as a registered Chiropractor is currently able to see some patients requiring non routine treatment, subject to a strict triage procedure - If you are in need of urgent treatment please telephone 01296 720695 and leave a message with your contact details and I will call you back to go through the triage process.